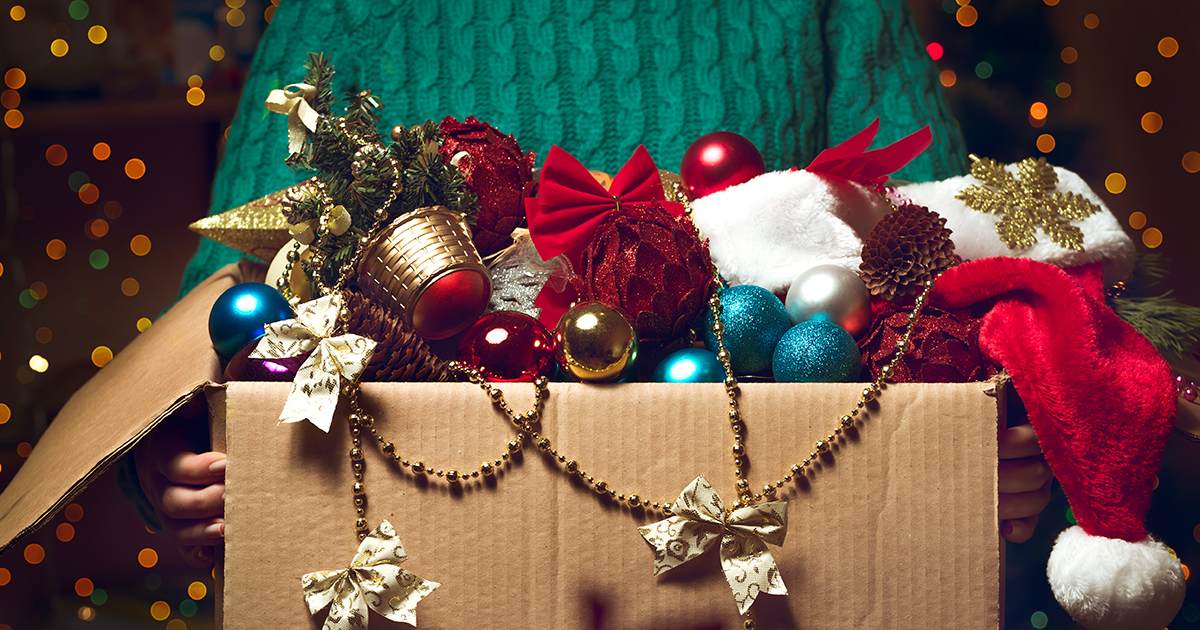 The holidays have come and gone, and it goes without saying that it was an unusual year! It's not always easy to know what to keep, what to toss, and what can be recycled responsibly after the festivities, so we put together a quick guide to preparing your home for the year ahead.
How to store holiday décor
High-quality lighting: If you spent a pretty penny on high-quality lights, you can wrap them around cardboard or empty wrapping paper tubes to keep them from getting tangled. LED lights are great candidates, as they last the longest and use the least energy.
Family keepsakes: The holidays are a sentimental time for many of us, and one-of-a-kind knickknacks can be a big part of keeping the spirit alive. If you have a tree skirt embroidered by your grandma, high-quality ornaments, or fancy family china, consider storing it all in stackable waterproof totes.
Artificial trees: There are many benefits to artificial trees—they don't shed needles everywhere, they may be safer for pets and kiddos and, best of all, they're reusable. Experts recommend purchasing a waterproof Christmas tree storage bag rather than stuffing your beautiful tree into its original box.
Holiday wreaths: These can be pretty expensive, and many people add personal touches that make them unique. If yours are especially nice, consider hanging them on a coat rack in storage rather than jamming them into those plastic tubs.
Live trees: Yes, it's possible to keep a live tree in your home (but only if you have a place to plant the tree outdoors after the holidays have lost their sparkle). Check with your local garden store to find out if your yard is an ideal environment.
Holiday recyclables
Shipping boxes: In almost every municipality in the U.S., brown paper boxes are recyclable. You can also recycle copy paper, basic greeting cards, and newspapers, but be sure to remove tape and labeling before breaking things down and tossing them in the bin.
Traditional trees: If you went the traditional route and put up a real Christmas tree, there are many ways to get rid of it safely. In some cities, you can simply remove all the glitz and glitter and take it to the street on garbage day. Other areas offer Christmas tree drop-off locations. Alternatively, you could buy or rent a wood chipper and create mulch for your own yard. Experts recommend letting the chips age for about a year before use.
Aluminum cans: From beer and soda cans to empty cranberry sauce tins, plain metal is recyclable almost everywhere. Once cleaned of food waste, these can go right in the bin.
Glass: In many parts of the country, glass recycling is readily available. Check with your city to find out how to do it properly. You can also consider reusing items such as mason jars for future leftovers.
Landfill-only items
Wrapping paper: Sadly, traditional wrapping paper cannot be recycled. The shiny kind is made of too many materials, and the heavily dyed kind can contaminate other paper. If yours isn't reusable, trash it.
Ribbons and bows: These aren't recyclable either. Try to save and reuse what you can, but toss the rest.
Bubble wrap and plastic sheeting: It's a common misconception that anything made of plastic can be recycled. Unfortunately, thin flexible plastic such as bubble wrap, grocery bags, and packaging can't be tossed into the bin. Get more info.
Aerosol cans: These may be metal, but their inner workings are too complicated for most recycling systems. Keep everyone safe by reducing your use and throwing these in the trash.
Styrofoam: Classic takeout containers are made of polystyrene, which isn't biodegradable or recyclable. Any plastic or cardboard soiled by food waste needs to go to the trash as well.
Paper towels and napkins: Besides the fact that paper towels are often covered by food waste, they aren't appropriate for recycling because their fibers are too short.
Toys: These are usually made from a variety of plastics and other materials, so can't be tossed in the recycling bin. Consider donating them instead.
Holiday lights and old electronics: Some things just aren't made to last. If your string lights and electronics are broken beyond repair, you may be able to recycle them at a hazardous waste facility near you. Don't toss them in the trash bin though, as they may be dangerous and because cords can get twisted around other items.
If you don't know if something can be recycled, it's best practice to keep it out of the bin. Then, try to limit purchases to items that are definitely worth keeping or that can be recycled easily.
If the holidays made it clear that you need to make a change in your home itself—whether that's trading up, refinancing or even getting into your very first home—we'd love to chat. Contact your loan officer today to get the conversation started.