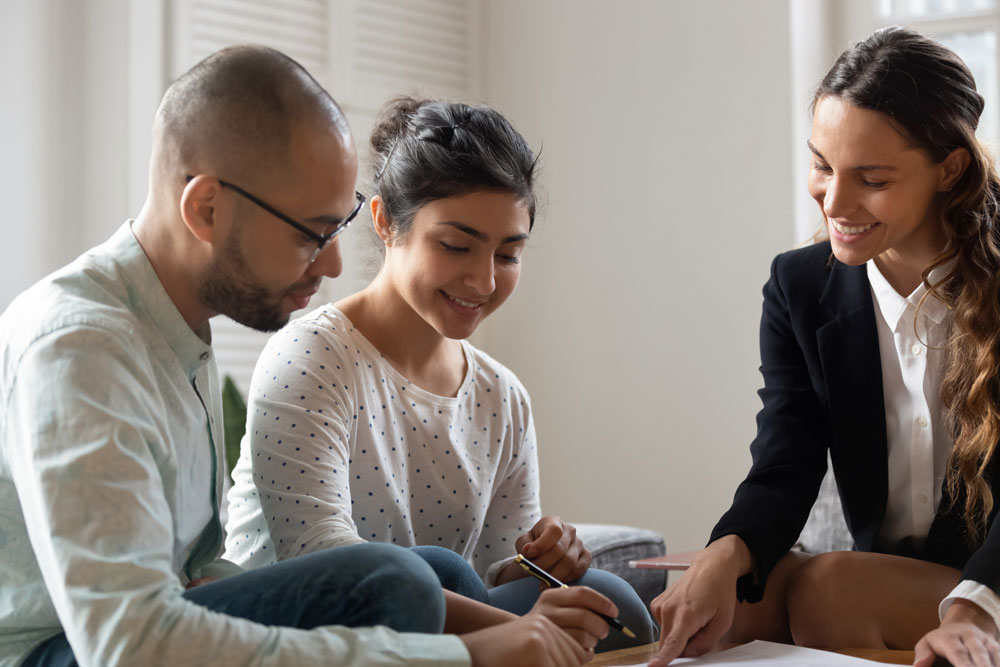 You saved your pennies, made progress in your career, and took good care of your credit. Now, it's time to buy a house!
At Castle & Cooke Mortgage, we are committed to keeping the process as smooth and seamless as possible for you and your family. But things can get a little complicated on our end—that's why we have a whole team of people working on your behalf.
In this article, you'll learn about all the people you'll meet as you complete the loan process.
Loan officer: Your loan officer will be by your side every step of the way. They'll take your initial application, work with real estate agents, and keep things moving forward through the process. They'll answer all your questions along the way and help you feel confident in your homebuying decisions.
You'll start by providing personal information (usually over the phone), and your loan officer will help you find suitable loan options. Then, your loan officer will work with our team to create a pre-qualification letter you can take shopping.
Real estate agents: Your pre-qualification letter will let you know how much house you can afford. From there, most buyers find a real estate agent to represent them, known as a buyer's agent. Your loan officer may be able to help recommend agents.*
Your agent will help you find a home, take you to showings, answer your questions about schools and neighborhoods, and more. They'll also facilitate negotiations with the sellers and will execute the purchase contract.
Like your loan officer, your real estate agent will be with you at every step and can answer your questions related to specific properties. Together, your loan officer and real estate agent are the pillars of your homebuying team.
Appraisers and inspectors: When you're borrowing money to buy a home, it's essential to make sure you get your money's worth. Your lender will arrange for an appraiser to visit the home and verify it's value, and that person will prepare a report for you and your lender. You'll also need a home inspector to check the condition of the property. Your agent can help you find qualified professionals in your area.
Processor: After you sign a contract to buy a home, your loan officer will connect you with a loan processor on our team. This person will help you gather all the required documentation for a loan, including proof of income, bankruptcy documentation (if it's relevant), hazard and flood insurance docs, homeowner's association docs (if required), and more. Your processor will check all the documents, run calculations, and check your earnest money.
Loan underwriters: When all your documents have been gathered and figures calculated, your processor will send your file to underwriting. This team will check guidelines, verify your financials, and ensure accuracy. When you work with the exceptional teams here at Castle & Cooke Mortgage, your file will be with this team for 24 hours or less.
Closers: Once your file makes it through underwriting, your file will go to a closer on our team. This person will do another round of verification, send you the required Closing Disclosure, send final docs to the title company, and confirm your down payment.
Closing agents: These folks are impartial third parties who manage the documents that make your property ownership official. You'll work with them to sign all the final paperwork at the title company.
Funders: Once all your documents are signed, your file will come back to our team. The funders will send the money for your home to the settlement agent, who will disburse the funds.
Servicers: This team handles your loan day to day, and your interaction with them starts after you pick up the keys to your new castle. Your servicer will collect payments, manage your escrow account for taxes and insurance, and more. Because loans are sometimes sold to investors after close, your servicer could change over time.
Start the process
It's a great time to buy a home, and you owe it to yourself to see what you could qualify for. When you're ready, reach out to your friendly Castle & Cooke Mortgage loan officer to start your homebuying journey.
*Castle & Cooke Mortgage, LLC, complies with Section 8 of RESPA and does not offer any thing of value such as marketing services or defrayed business costs in exchange for referrals or for the expectation of referrals.