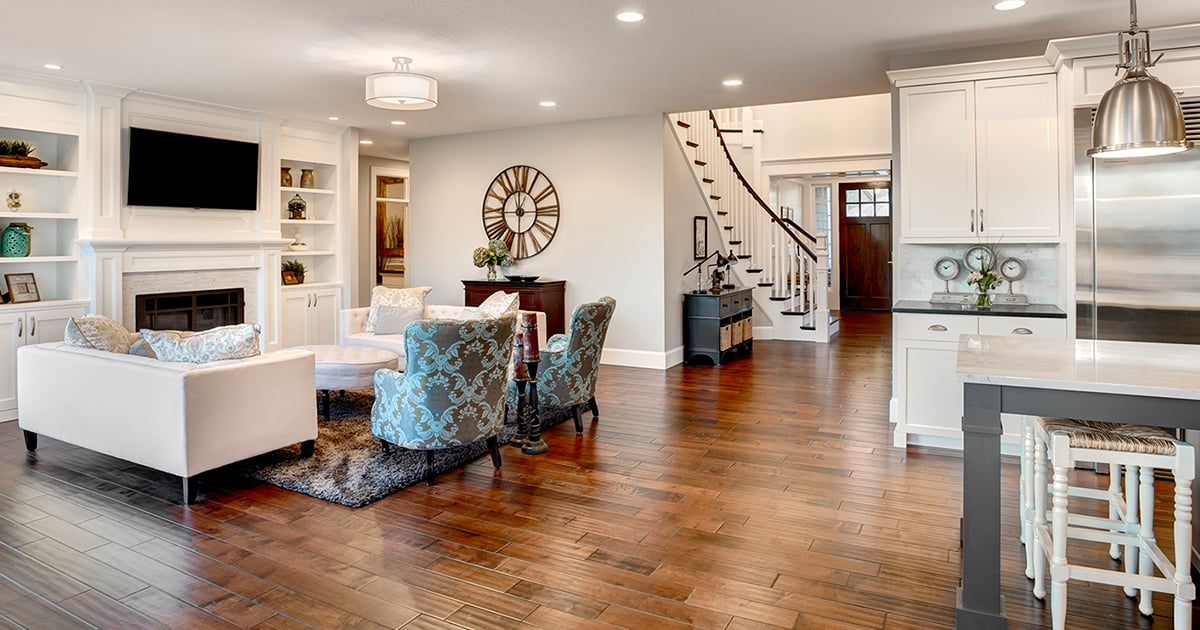 Personal space came back in style starting about a year ago, and there's no doubt COVID-19 had an influence.
A handful of housing experts at the time proclaimed that the pandemic meant the end of open floor plans, but not all real estate industry experts agreed.
Several months later, it looks like open floor plans aren't going away, but they will need to be more flexible for a future where working from home is fairly standard.
Whether you're craving a nook of your own or aching for more open space and sunlight, there's a home out there for you. And if you'd prefer to stay put but want to make a few changes to your space, the right home loan refinance could be your path to the remodel of your dreams.
History of open floor plans
Before the industrial revolution, most people lived in one-room huts, possibly divided by half walls. Then, in the 1800s, homes started to be built with multiple stories and separate rooms (but still no interior bathrooms). By the mid-nineteenth century, fancy homes in a range of architectural styles were being built all over the U.S.
Starting in the early twentieth century, the frills of the Victorian era started giving way to more open, streamlined homes. The trend away from small rooms coincided with the movement of main staircases to the exterior walls of homes rather than the center.
At about the same time, many families began cooking their own meals rather than hiring a cook to do it out of sight. That meant incorporating kitchen areas into shared common areas.
By the mid-1960s, the trend toward open spaces came to the professional world with secretarial pools in offices. By the early 2000s, this love for all things open space had taken over the business environment entirely, especially in high-tech Silicon Valley.
Today, homes are (at least) twice as big as they were a hundred years ago and they're MUCH more likely to have multiple bathrooms and bedrooms. They're also more likely to be designed, built, and sold as "open concept" or "open floor plan." But what does that mean?
Open concept, defined
By its simplest definition, open concept means an interior where at least two common spaces are in the same room. These layouts eliminate walls and doors between dining rooms, kitchens, and living rooms to form a single open area or "great room."
Pros of open space living
Better visibility
More daylight
Improved traffic flow
More shared experiences
Cons of open spaces
Increased noise (not to mention shared aroma)
A lack of privacy
High heating and cooling costs

The need to consistently keep open spaces neat and tidy
The future of flex space
With the housing market on fire and some people planning to work from home even after health concerns have passed, our homes have already started changing.
To add privacy and flexibility in existing great rooms, designers are turning to half walls and room dividers. Discerning buyers are also starting to think ahead, shopping for additional bedrooms or open floor plans with pocket doors so activities can "flex" throughout the day.
A home loan for getting your space just right
If you're in the home buying market, talk with your real estate agent about how you plan to use your space (and how you envision using it in the future). If you're looking to improve your current space, now might be a great time to consider a home renovation loan that can help you pay for energy and safety improvements while making your space better suited to your needs.
Our friendly Loan Officers love all things real estate, and they'd love to hear your thoughts on the joy (and horror) of open floor plans while they discuss your home financing needs.