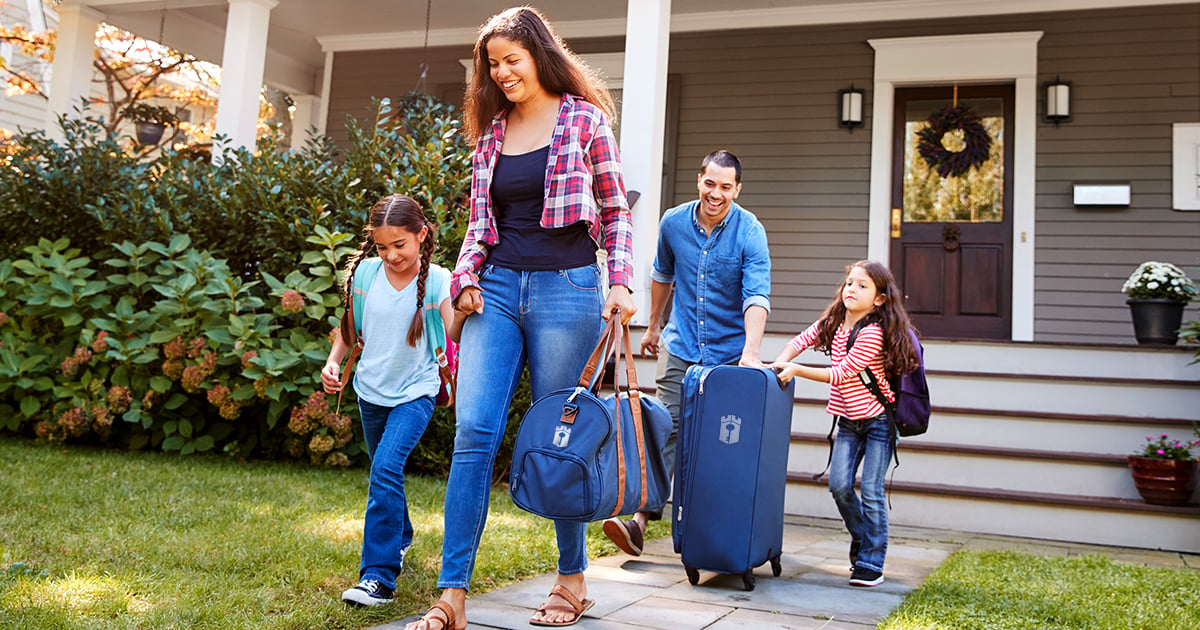 Whether you're embracing van life, jet-setting to a tropical destination or simply hitting the highway to visit family and friends, August is all about vacation getaways.
Even though you'll be away from home, you can keep your home and possessions safe by following a few steps. Use this checklist to get ready.
1. Stop the mail
An overflowing mailbox is a sure sign to would-be burglars that you're away (and it could open you up to the risk of mail theft). Instead, visit the website of the U.S. Postal Service to request a mail hold until you're back. If you get a newspaper, it's a good idea to stop that delivery as well.
2. Unplug your devices
Save money on electric bills and reduce the risk of an electrical fire by unplugging your toaster, chargers, entertainment system, and perhaps even your wireless router before you leave.
3. Adjust the thermostat
No reason to keep your home at 70 degrees while you're away! If you're traveling in the summer months, consider turning the AC off entirely. If you're traveling in winter, you're safe to set the temperature to about 60 degrees.
4. Turn down the water heater
If you're leaving for an extended period of time, set your water heater to vacation mode (usually marked VAC). If your system doesn't have this mode, set the water heater to the lowest possible setting. If you're feeling extra cautious, you can even turn off the water main to prevent leaks while you're gone.
5. Ask a friend or neighbor to check in
If you have house plants or pets, you'll need a friend or neighbor to stop by on a regular basis. But even if you don't, having a person coming and going every few days can help.
6. Check your alarm system
If you have a home security system, make sure it's fully charged and functional. And if it's a wireless system, you should probably keep that router plugged in.
7. Set up light timers
If you have plug-in light timers available, set them to turn on and off at regular intervals. If not, simply leave a few interior lights on for the duration of your trip.
8. Clean out the fridge
Consume or dispose of anything that won't last until you get back, and give the fridge and counters a thorough wipe-down. It's also smart to run the dishwasher and garbage disposal before you head out.
9. Take out the trash
No one wants to return home to a rotting mess! Instead, empty all your trash cans and arrange for a friend or neighbor to take the bin to the street on trash day.
10. Close the blinds and lock the windows
Keep out prying eyes (and intruders) by closing your blinds and curtains and checking the locks on all your windows. And on your way out, make sure those doors are locked securely!
If you're still looking for a home of your own, reach out to your loan officer today to get pre-qualified and find out how much you could afford. If you're looking to save money on monthly payments or take cash out to pursue your dreams (tropical or otherwise), check out our refi calculator to start exploring options.