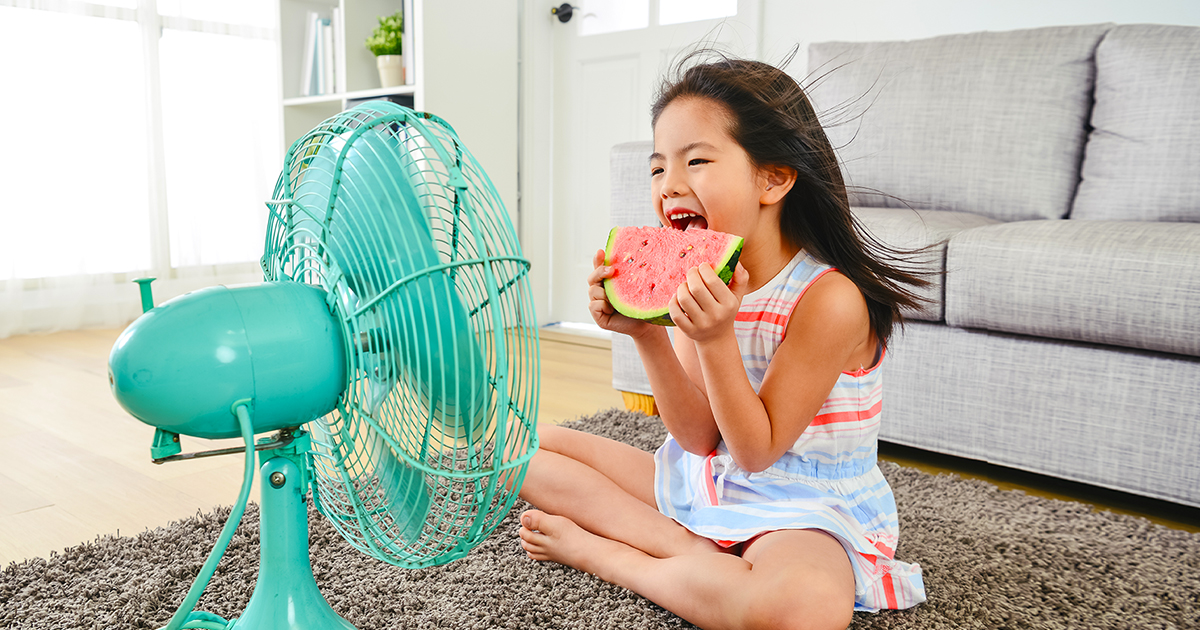 Whether you're working from home this summer or traveling to and from an office, keeping your home cool and comfortable is essential.
About three quarters of homes in the U.S. have some kind of air conditioning, according to the U.S. Department of Energy (DOE). Single-family homes are the most likely to have whole house AC systems, totaling about 89 percent, as of a 2008 survey. Older homes and multi-family units are more likely to have single-room units instead.
If you're looking to stay cool without breaking the bank, give a few of these top tips a try.
10 ways to beat the heat this summer
1. Keep blinds and curtains closed during the day
Most of the heat that gets into your home comes in through the windows, so keeping the hot sun out during the day can have a big impact. For windows that face north and west, keep the blinds and curtains closed tight. In basement rooms, tilt blinds upward to keep the heat out while still letting in a little light.
2. Create a cross breeze
If you don't have AC, simply opening windows and doors strategically can create a nice, cooling breeze. If you do have AC, try turning it off during morning and evening hours and cracking windows instead. For best results, create openings for airflow on opposite ends of the house.
3. Choose friendlier fabrics
Cotton is the lightweight champion of summer, and for good reason: it's breathable, easy to clean, and a breeze to maintain. Choose cotton clothing instead of polyester and synthetic blends throughout the day, and switch to cotton sheets for your summer bedding needs.
4. Incorporate house plants
House plants, shrubs, and vines are not only nice to look at—they're a 100% natural way to cool your home. Place them strategically in front of sunny windows for shade. And there's a bonus: potting soil is a natural insulator, so you benefit from the ground up.
5. Fire up the grill!
Cooking indoors during the summer is a great way to heat up the whole house. Instead, brush up on your grill skills and try meal prep in your own backyard or even a nearby park. If you're feeling ambitious, you can plan ahead and cook for the next day.
6. Upgrade your lighting
Incandescent lights are hot! If you still have them in your home, summer is a great time to switch them out for more energy-efficient varieties. You'll benefit from less residual heat and lower electricity costs overall.
7. Let water do the work
From sipping ice water to placing a bowl of ice in front of a fan, simple H20 can go a long way toward keeping you cool. You can also create a DIY body mist by placing a few drops of essential oil in a spray bottle and keeping it in the fridge, and then spritzing your face and body every so often.
8. Keep your system clean
No matter what type of AC your home has, dirt and grime can lead to inefficient cooling. If you have a swamp cooler, drain it and brush it out every spring. For central air, be sure to clean the outside unit and check the evaporator coil at least once a year. For window units, keep them clean inside and out year-round (just be sure to unplug the unit before you add water)!
9. Change your filters
The best way to save money on cooling costs is to keep your air filters fresh. According to the DOE, you can turn your AC unit about four degrees lower without spending more when you change those filters on schedule.
10. Install a programmable thermostat
You probably don't need to keep your home at a steady temperature all day every day, but it can be a pain to adjust the thermostat every few hours. Instead, invest in a programmable thermostat for as little as $30. You could save up to 10% on heating and cooling costs every year!
Ready for an energy efficiency remodel?
For the average home in the U.S., cooling costs average about 12% of total residential energy expenditures each year, according to the DOE. That can amount to anywhere from $14 to $211 per month.
Depending on the size of your home and the AC unit you choose, installation itself can also cost several thousand dollars. However, an upgraded unit will save you on energy costs right away and could even increase the value of your home.
If you're ready to upgrade, a home energy refinance loan could help. You may also be able to use the proceeds from a refinance to install solar panels and add insulation, which can save you on energy bills all year.
When you're ready to start the home loan conversation, your local Castle & Cooke Mortgage loan officer can walk you through all the details and help you make a plan.