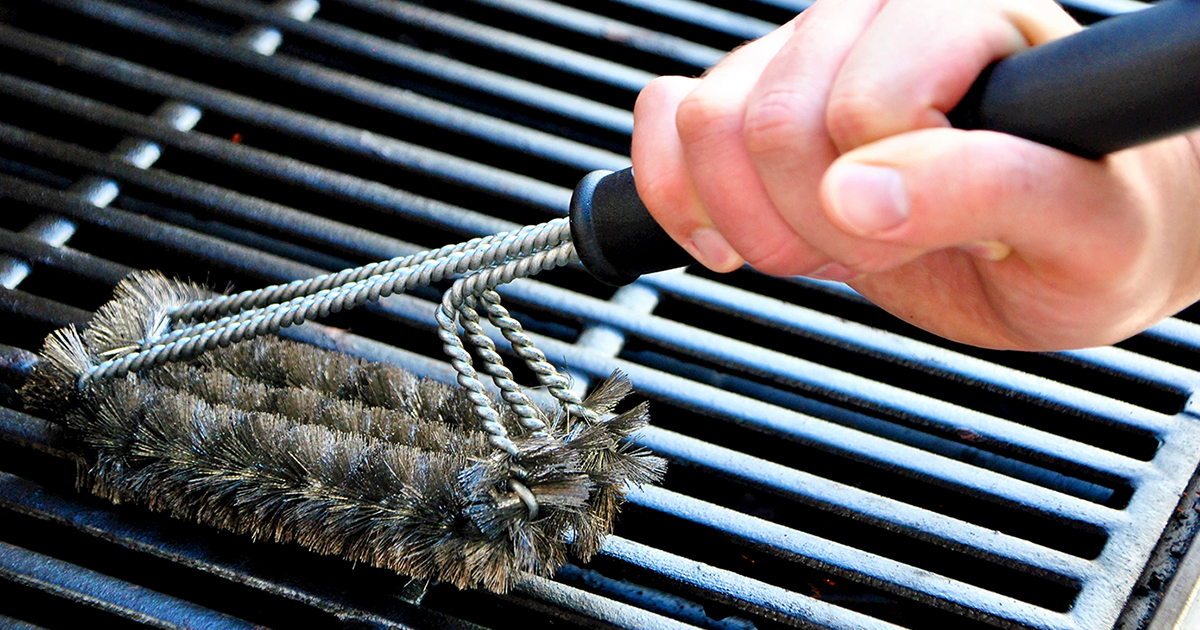 The tempting aromas of backyard barbecues are making their way through neighborhoods all around the country. If that smoky scent leaves your mouth watering, now's a great time to make sure your setup is ready to go.
Whether you're just getting to know the joys of outdoor cooking or making plans for that first post-pandemic party, we put together a quick guide for springtime cleaning and maintenance.
Prepping your charcoal grill
These big belly grills were once the only option for backyard grilling, and they continue to be the go-to for hardcore grillers in all 50 states. They're a top choice for flavor, but they aren't quite as easy to use as their gas counterparts.
If you're all in for charcoal, follow these steps to get your grill ready for hot dogs, burgers, barbecue chicken, plank salmon and so much more:
Remove the grates and soak them in a tub of water and vinegar
Remove ash from the bowl using a small shovel and a broom (or even a shop vac)
Wipe out the underside of the lid and check the vent covers for smooth operation
Remove the grates and scrub them clean using a wire brush or ball of aluminum foil
When the grates are clean, coat them with canola oil and let them cure in a hot oven (450 degrees) for a few hours
Wipe down the exterior
Fire up the grill! It can take up to 30 minutes to reach cooking temps, so give yourself plenty of prep time
Start making some mouth-watering memories!
Cleaning your gas grill
Using gas for grilling is fast, convenient, and pretty easy. These grills often have enough capacity to feed a big group, and easy temp controls make them great for grilling up some veg alongside your favorite meats.
Both natural gas and propane models require a little more maintenance than charcoal at the beginning of the year, but they're easier to keep clean and well-maintained throughout the season.
These steps will get you grill-ready in no time:
Check for cracks and leaks in all the hoses and burners and replace if necessary
Check control knobs and the igniter and replace batteries in the control panel if you don't hear that characteristic clicking sound
Check the burner tubes, especially if flame appears reduced or is orange (instead of blue)
If there's a clog in the tube, clean it out with a tiny wire brush in circular motions (don't go up and down, as that could force grime into the tube)
Disconnect the gas for safe cleaning
Follow the steps above to clean the grates and remove debris
Don't' forget to wipe down the sides, the underside of the lid, and the grill sheets
If your model uses propane, check the tank—if yours is close to empty or showing signs of rust, replace it or splurge for a spare
Reconnect everything and let the grill run for 20 minutes or so before putting any food on it (this will burn off any chemicals and soap leftover from the cleaning process)
You're good to grill!
Setting up your smoker
Smoking meat is probably one of the oldest ways to preserve it, and it's also one of the most delicious! From pork ribs to ribeye and salmon to whole chickens, this process results in some truly wonderful meals.
Smokers work by cooking meat at much lower temperatures than grills, giving the smoke plenty of time to infuse the final product. They come in either gas or charcoal varieties, and there's hot debate about which is best for creating truly tantalizing tastes.
Cleaning out and prepping a smoker is pretty similar to prepping a grill, but there are a few extra things to be aware of.
Since you're burning wood nonstop with a smoker, you'll need to clear out any built-up ash in the bowl on a regular basis. Skipping this step could result in rancid, smoky tastes that you definitely won't want on your dinner plate.
For charcoal varieties, you'll need to control air flow with dampers, vents, and baffles as your food cooks. Make sure these are opening and closing smoothly and are free of buildup and rust.
Smokers have grates and walls just like grills, but they also have a rinse water pan that needs to be cleaned thoroughly between uses.
Finding a home for your grill
The only thing that says classic Americana more than a backyard barbecue is achieving the dream of homeownership.
If you're interested in exploring options for your own first home, curious about taking advantage of current low rates to refinance, or ready to find a bigger place for your growing family (and growing grill collection), our friendly Loan Officers would love to fire up a conversation.