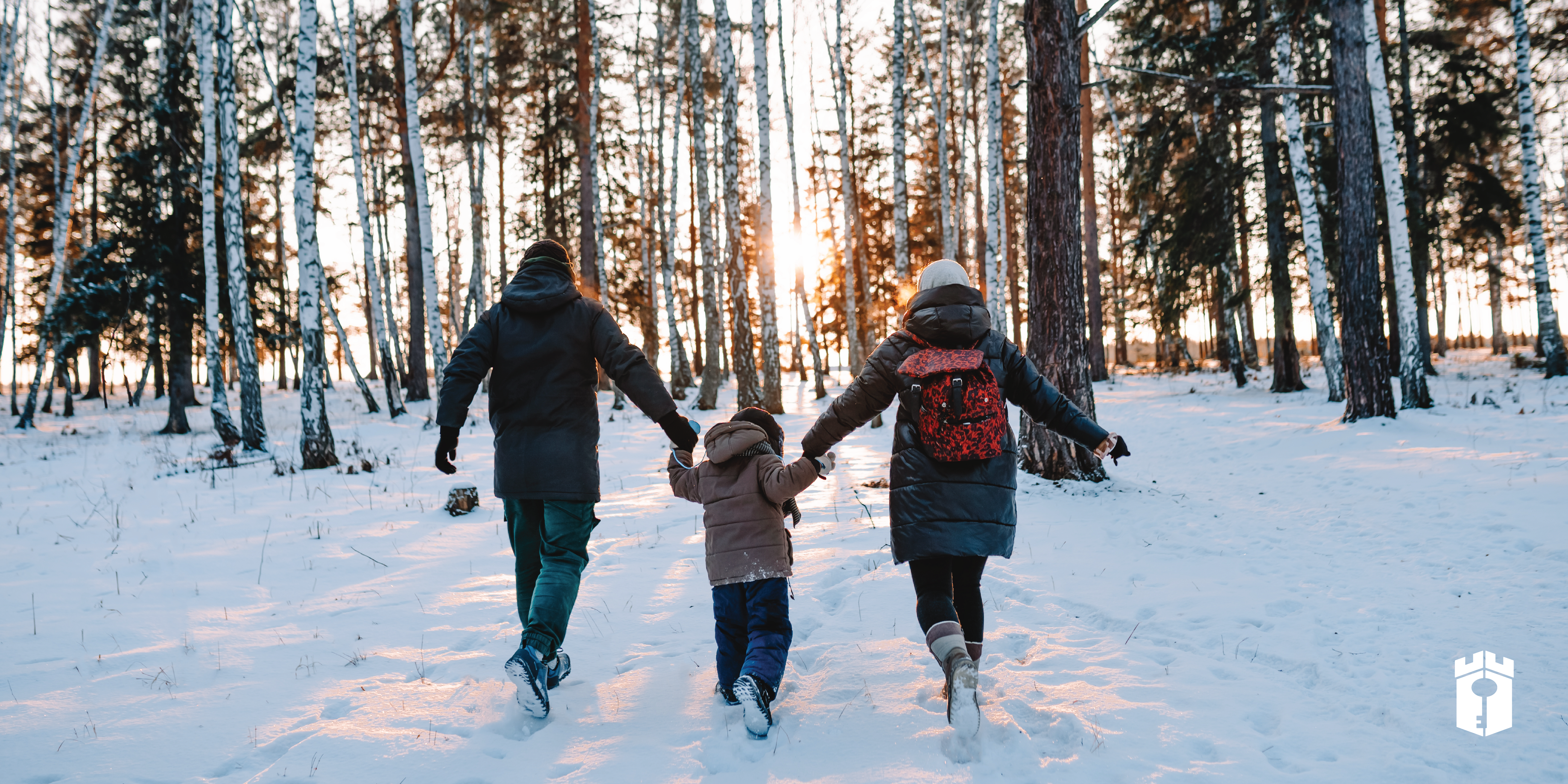 In the early days of winter, it's nice—exciting, even—to get all cozy indoors. November and December are the time to indulge in hearty soups and hot drinks, fuzzy blankets and soft slippers.
But a few months in, winter weather can bring on some serious cabin fever.
Since many of us are back to spending WAY more time in our homes than usual, we put together a list of ways to have fun (and stay healthy) outside before spring comes a knockin'.
Go snowshoeing: Snowshoes are a special type of footwear that keep you from sinking too deep in the snow, and you can buy a pair for around $75 (or try a rental for closer to $20). Dress in layers—you'll definitely heat up from the exercise—and don't forget sunscreen for any exposed skin.
Try ice skating: There's nothing quite as romantic as skating hand-in-hand with someone you love on a cold winter day, followed by steamy hot cocoa around a blazing fire. Good skates cost about $100, but you may be able to find previously loved skates at thrift shops for a lot less.
Go cross country skiing: For a little more speed than snowshoeing (but a lot less speed than alpine skiing), give cross country skis a try. These skis are a lot shorter than alpine skis, and you can usually rent them by the hour.
Go for a scenic drive: If you're looking for an inexpensive outing, scenic drives are an excellent option. And they're accessible for almost all ages, shapes and sizes! Check with your state's travel bureau for route ideas, or look to local photography groups on social media for tips on the prettiest places near you.
Visit the animals: If you haven't checked out your local zoo or aviary during the winter months, bundle up and give it a go! Animals like snow leopards and tigers are more likely to be active during the day, since their natural habitat is in cold climates. Even rhinos and elephants have plenty of body fat to brave the cold when temperatures bottom out, and smaller crowds plus outdoor exhibits make for safer social distancing.
Hit the slopes: If you're lucky enough to live near mountain peaks, you owe it to yourself to try downhill sports! Many ski resorts offer sledding or tubing hills for family fun, and beginner lessons are widely available for both skiing and snowboarding. Lessons are worth it if you're new—just don't skimp on the helmet, and be careful to stay in bounds to avoid avalanche risk!
Health and safety
No matter how you get outside this month, you'll need to take some extra safety precautions. Carry food and fresh water, because staying full and hydrated is one of the best ways to stay warm. It's also smart to keep a light source handy in case you're still out after sundown, and be sure your vehicle is equipped for the conditions.
And don't forget that face mask and hand sanitizer! Scientists agree that you are much less likely to catch the novel coronavirus outside than you are inside, but they still recommend masking up if you're within six feet of people who don't share a home with you.