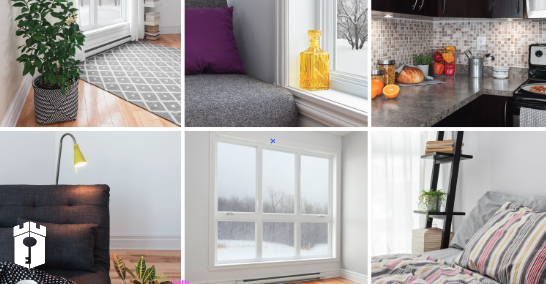 So far in this series, we've talked a lot about market forces that affect home prices. But every home is different. And let's be honest: the actual homes are the best part of home financing!
In this article, we'll go over the elements that make homes unique and discuss how these factors add up to sales prices.
Neighborhood comps
Home prices are ultimately set by buyers and sellers when they sign a real estate purchase contract (REPC)—home values are determined by what buyers are willing to pay, plain and simple.
In the beginning of the process, real estate agents also play an important role by completing a CMA (comparative market analysis). This analysis helps them figure out an initial listing price and gives them info to use in negotiations later on.
Once the REPC is signed, a real estate appraiser will come in to assign an objective value to the property. This process helps ensure buyers (and lenders) are getting their money's worth.
Appraisers look at many factors to determine values, but one of the most important is "comps," short for comparable properties in the area. Appraisers generally look at three or more of these comparable properties, and they all need to have sold recently to count.
So exactly what do appraisers and agents look for in these checks?
Square footage
Size matters, at least in real estate. One of the most common ways you'll hear homes talked about is price per square foot. For example, let's imagine a 2,000-square-foot home that sells for $200,000. The price per square foot is $100.
You'll probably need to pay more than that—back in 2019, the average home went for $123 per square foot, and prices have increased a lot since then.
For these calculations, real estate experts only include livable space. That means they won't count unheated areas like an unfinished basement or garage. Your real estate agent can tell you about average prices per square foot in neighborhoods you're considering.
Bedrooms and bathrooms
The more places there are to eat, sleep, and wash up, the more a home is likely to cost.
For a bedroom to be counted, it needs enough space for a conventional bed and either a closet or space for a wardrobe cabinet. It also needs a window large enough for emergency exit, adequate lighting, and ventilation.
For a bathroom to count as full, it needs a sink, shower, tub, and toilet, with each utility counting as a quarter. So a bathroom with just a shower, sink and toilet is a three-quarter bath, and one with just a toilet and sink is a half bath.
According to some estimates, a home with an extra bathroom can be worth about 19% more, while one with an extra half bath can add 10% to the value. Local preferences play a part, and so does the mix of bedrooms compared to bathrooms.
Additional bedrooms can also increase the price by several thousand dollars, but there's no set price for an additional bedroom. Instead, appraisers look at the typical number of bedrooms in nearby homes, home layout, and whether the additional bedroom means more square footage.
Considering an upgrade?
If you're looking to get the most bang for your buck when doing home improvement, Castle & Cooke Mortgage Loan Officer Brett Cavazos recommends upgrading bathrooms or kitchens, which will help to add the most money to your home without adding square footage.
If you don't have hundreds of thousands of dollars laying around to do the work, you might want to consider using the equity in your home and doing a cash out refinance loan.
"It's a great option for home improvement and also a great way to make your money work for you long term," Brett said.
Home style, age, and design
Whether you prefer a handful of cozy nooks or wide open spaces, the design of a home can make a difference in the sale price. According to one study from the research data consultancy firm Dataloft, good design can add 12% to the sales price. For them, good design meant natural light, durability, versatility, beauty, and functionality.
Home style can also make a difference, but trends and preferences change over time. Mid-century modern homes had a big resurgence in popularity in the 2010s, and they're still pretty popular in many areas. But in some neighborhoods, vintage Victorians and neo-eclectic varieties (McMansions) fetch the highest prices.
Age matters too. If you're considering an older home, be sure to budget for more maintenance and repairs. On the other hand, older homes are often closer to city centers and have better neighborhood amenities, so could hold their value better long-term.
Yard and lot size
In the previous article in this series, we talked about how important location is in real estate pricing. But location is really about land, and that's why lot size and layout matter so much. This changes a lot depending on neighborhood, but your agent can explain the details.
The yard (and how well it's maintained) can also make a difference. A beautiful space with well-maintained sprinklers and drainage will be more desirable than a yard full of weeds, and buyers tend to prefer small front yards and large back yards. A fully fenced backyard and other pet-friendly features can also increase desirability, according to research from the National Association of Realtors®.
Garages and sheds
Having a garage is about more than just keeping your car out of the rain. Garages can also improve security and add storage capacity, and they're a hot commodity. According to a recent analysis by Redfin, a home with a garage will be valued at about 12% higher on average, but there are big differences in that figure if you analyze one city at a time. Garages add the most value in Chicago, at 38%, and the least relative value in Raleigh, NC, at just 2%.
Sheds and other outbuildings can also affect value, but these structures aren't counted toward square footage and aren't looked over in a standard home inspection.
Home condition
A home that has been well-maintained could go for thousands more than a similar home in poor condition. What's more, major issues such as structural integrity or termite damage could stop a sale in its tracks.
Pay attention to a home's condition when you first see it, and consider attending the home inspection to check things your inspector might miss.
Fixtures and appliances
A lot of buyers are only in the market for houses that are move-in ready, and these buyers will pay a premium for functional and beautiful lighting, cabinets, and appliances.
If you're remodeling to sell, however, stay away from highly unique fixtures that the new owners may want to replace or that could need extra maintenance down the road.
Bonus features
Each buyer will be looking for specific things when they're shopping for a home, and part of your real estate agent's job is to keep an eye on these trends. In recent years, internet connectivity and energy efficiency have become important, for example.
Homes with well-maintained hot tubs and pools can also go for a premium, but some buyers see them as a liability.
Start the home loan process
Whatever you have on your wish list for your next home, it's a good idea to start the homebuying process with a pre-qualification letter. This will let you know how much you can afford and can give you an edge with sellers.
Now that you know how home prices are determined based on broad economic factors and house details, it's time to consider whether a home is a good investment for your financial future. Get your questions answered in the final article of our Home Prices, Explained series.