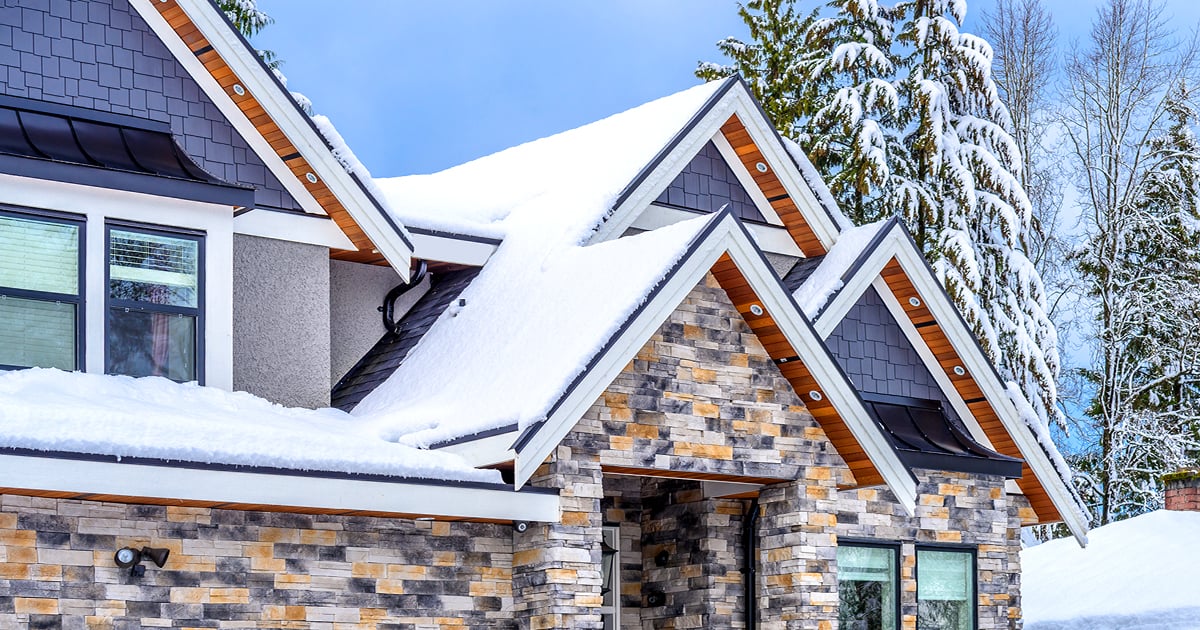 Some parts of the country are already experiencing deep freeze conditions, and ice storms are coming soon in other areas. If you haven't already, now is a great time to protect your home from the worst of winter weather.
We created this checklist as a handy guide for first time homeowners and anyone else hoping to keep their property in tip-top shape.
Exterior maintenance checklist
Clean and store lawn equipment
Now is a great time to prepare all your outdoor tools for the season ahead. Clean and service your summer tools, such as lawn mowers and trimmers, and make sure your winter tools such as leaf blowers, snow shovels, and snow blowers are set up and ready to go.
Winterize outdoor water systems
Freezing temperatures can wreak havoc on your sprinklers and hoses. Hire a specialist to blow out and shut off your sprinkler systems. Then, store your hoses in a shed or garage.
Seal windows and doors
Most modern-day builders do a good job of sealing windows and doors with caulk. If your home is a bit more seasoned, however, you may need to re-caulk windows and doors to keep out drafts.
Protect your roof
Protecting your roof for the winter may require several steps. First, check for any missing roof tiles or damage and get repairs. Then, clear your gutters and downspouts of any debris. Next, if you live in a humid area, scrape off moss or excess vegetation. If you live in a particularly cold area, check for ice dam hazards and make sure any existing heat tape is functional (and plugged in).
Check for cracks
Take a peek at your foundation, sidewalks, and exterior walls for cracks. If there are any, check with a professional to have them repaired.
Make a snow and ice removal plan
The time to plan for ice and snow removal isn't during or after a storm, but well beforehand. If you don't know what typical conditions are, do your research. Then, figure out a plan. If you're going to handle ice and snow yourself, be prepared with a shovel, ice melt, snow blower, or other necessary tools. If you're going to hire help, set up interviews ahead of time.
Store outdoor entertaining gear
If conditions are getting too cold to spend time out back, it's time to pack up. Turn off your propane tanks and store them away from the elements (but not inside). Next, cover or store patio furniture and protect any exposed lighting or speakers. Finally, check the plumbing on your hot tub to ensure nothing can freeze and drain your pool (if you're lucky enough to have such luxuries).
Prep the lawn and garden
The first major step here is to clear fallen leaves, especially from pathways where they could become slip hazards. Then, winterize your compost, trim back dead leaves and foliage, and plant any bulbs you want to bloom when the weather warms up.
Get more tips on prepping your outdoor space in autumn.
Winterize the AC or swamp cooler
Whatever appliances you used to cool your home in the heat of summer, it's probably safe to turn them off now. If you have a swamp cooler, make sure it's drained and covered properly. If you have central air, clear the unit of debris and cover it to protect against frost.
Get the indoors ready for the cold
Protect your interior pipes
Even with the best preparation, indoor pipes can sometimes freeze. This is especially true in crawl spaces and other areas that are out of reach of the furnace. First, ensure your pipes are properly insulated. If there's heat tape wrapped around the pipes, ensure that it's plugged in. Next, consider leaving a faucet dripping to keep pipes open.
Finally, make sure you know how to turn off the water main in case pipes do freeze. That way, you can prevent a frozen pipes problem from becoming a shattered pipes problem.
Learn more about indoor water maintenance.
Test smoke and carbon monoxide detectors
Fire and carbon monoxide hazards can arise in the winter from things like space heaters, candles, electric blankets, and increased use of the stove and oven. Make sure your detectors are in working order and equipped with fresh batteries.
Adjust the thermostat
If you don't already have a digital programmable thermostat, the winter months are a great time to upgrade. Many modern models now connect to your wi-fi so you can control them from anywhere. Experts recommend setting the temperature to no higher than 68 during the winter, and you're probably safe to turn it down even further overnight or when you're away from home.
Check your fireplace
If you're lucky enough to have a fireplace, prepare yours for a good blaze. Whether you have a wood fireplace or a gas one, make sure your chimney is clear of soot and animal activity, and make sure that flue is in good working order. If you have a wood fireplace or stove, be ready with long matches or a lighter and a good supply of firewood.
Note: Wintertime fires can be hazardous. You should never burn treated wood because of the chemicals used to manufacture it, and you should use extreme caution when burning woods such as pine, which can send embers flying. Also, be aware of air quality. Fires are extra cozy this time of year, but they aren't worth sacrificing your health (or your clean air).
Prep your furnace
Now is also a great time to get your furnace inspected, ensure that vents are clear of debris, and adjust any vents that may have been closed during warmer months. If you don't have extensive knowledge on the subject, it's a good idea to bring in an expert. It's also a great time to change your furnace filters (but in all truth, you should probably be changing them about once a month).
Get winter bedding out of storage
Warm and fluffy quilts, flannel sheets, and cozy throws are key to staying comfortable during the coldest months of the year. Swap your summer bedding for cold weather options.
Swap window treatments
If you live in an area with a lot of temperature variation throughout the year, it can be wise to have different curtains for different seasons. If this describes you, now is a great time to opt for heavier curtains.
Switch your ceiling fans to rotate clockwise
It may seem counterintuitive, but you may want to run your ceiling fans in winter months to stabilize temperatures throughout the building. If you do, you can switch their direction using a little switch on the fan base. In the summer, fans should spin counterclockwise. In winter, because heat rises, they should spin clockwise.
Expect the best; prepare for the worst
If you get all the details right, your home should be warm and comfortable all winter long. But disasters can happen even if you do everything right. We recommend buying—or creating—a cold weather 72-hour emergency kit in case you get stuck in the cold.
While you're at it, stock up on your favorite winter luxuries, from hot cocoa and candy canes to bath salts and slippers. You may be surprised to find that having just a few of life's luxuries can get you through a lot of temporary cold and discomfort.
Contact your Castle & Cooke Mortgage loan officer
If you are still looking for your first home or thinking of an upgrade, winter can be a great time to make a purchase. The winter months are typically slower industry-wide, and that can mean more personalized attention from your home loan team and better prices on homes.
Contact your loan officer today to get the conversation started.