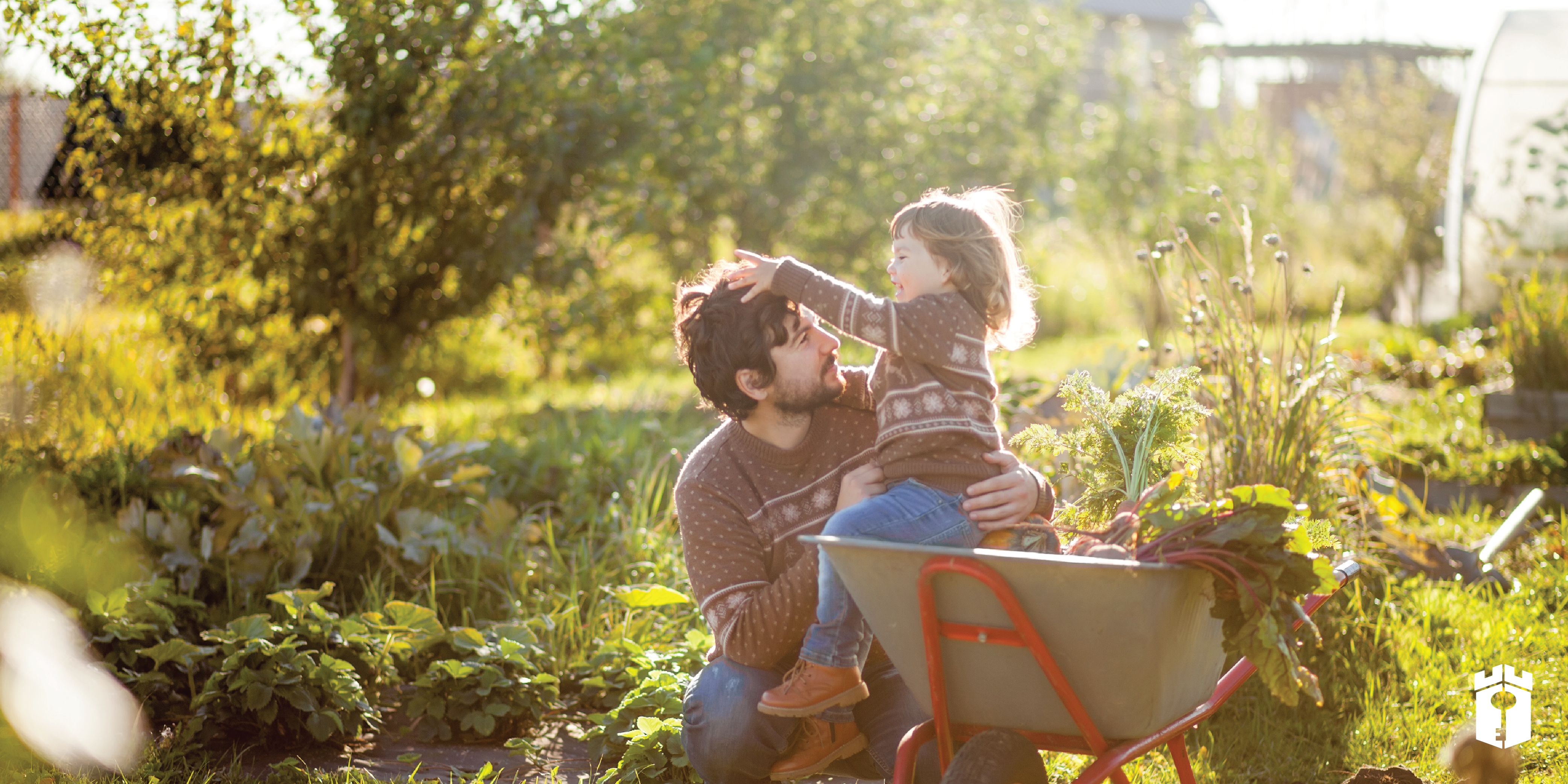 A luscious outdoor space requires maintenance year-round, and autumn is the best time to clean up a little, plant a little, and mulch a little to prepare for colder days ahead.
What to remove
Fall is the time to let things go—and the flowers, trees, and grasses in your yard are all over it. Here's a quick list of things you should clear away before the snow flies.
Perennials
Flowers such as allium, lavender, rudbeckia, sweet pea, and daylily grow back every year, and it's a good idea to trim them down before the first frost in fall. Throughout the summer, remove dead heads, any damaged or diseased parts, and straggly growth. Then, in fall, cut down the stalks to an inch or two above ground. Sharpened hedge trimmers are the best tool for the job.
Fallen leaves
While it's true fallen leaves provide homes for insects, thick layers can lead to problems down the road. If you have light leaf cover, you can simply mow over it and leave what remains as a natural fertilizer. If your leaf cover is thicker than a few inches, rake the excess into piles. Then, store the leaves in a covered area to create compost for future use.
Weeds
Weeds such as dandelions are already starting to convert their energy to their roots by autumn, so removing them before winter prevents them from gaining strength. Just be sure to send any remains to the dump or a green waste facility so you don't mix weed seeds into your compost.
Note: Carefully clean all your cutting tools before you put them away for the winter to reduce the spread of mold and fungi.
Gutter debris and edges
If you haven't already gotten to gutter clean-up and edging, now's a good time to dig in. This list of essential fall maintenance projects is full of tips and tricks.
What to plant
It might seem counterintuitive, but autumn is the best time to get some things in the ground! This technique allows plants to build strong roots before they bloom in spring.
Bulbs
To add perennials to your garden, start by planting bulbs before the first freeze. Common choices are bearded iris, daylily, tulip, daffodil, and hyacinth. Most bulbs should be buried about three times deeper than their diameter (usually about five to seven inches below ground).
Note: if you have delicate summer bulbs such as dahlias, begonias, or cannas, it's best to dig them up and store them somewhere dry for winter. USDA plant hardiness zones can help you determine whether your bulbs can withstand local conditions.
Trees and shrubs
If you want to add foliage, fall is a great time to get a head start. Be sure to give your new additions plenty of water at least once before the freeze. For most trees and bushes, a 40-minute soak with a hose should do the trick.
Turf
If your lawn has bald spots—or even if you're adding new grass for the first time—fall is the best time to lay down new turf. You can also plant grass seeds this time of year. Add a nitrogen-rich fertilizer for best results.
What to mulch (or leave alone)
While it makes sense to keep a tidy garden during winter, leaving a little plant material behind can help birds and insects, decrease weed growth, help retain soil moisture, and reduce both erosion and compaction of the soil.
Ornamental grasses
While it's common to see ornamental grasses cut down to the ground for winter, it's not strictly necessary. Instead, you can keep a little landscaping intact and wait to trim until spring. Just remove anything that's fallen or rotted to reduce disease spread (and slippery conditions) when the snow comes.
Trees and shrubs
You may have heard that late winter is the best time to prune trees, and it's true. However, you can protect your trees during the winter by laying down a thick layer of mulch (2-4 inches) each fall. Be sure to spread it out to the drip line rather than leaving a mound at the base of the tree. Your own compost is a great place to start, or you can try bark chips, ground bark, lawn clippings, or even those leaves you piled up from the lawn.
Contact your loan officer today
If you're ready to refinance your mortgage or dreaming of a new place of your own, your Castle & Cooke Mortgage loan officer can help you define your goals and explore your options.
When you're ready for a fall home finance checkup, give us a call!