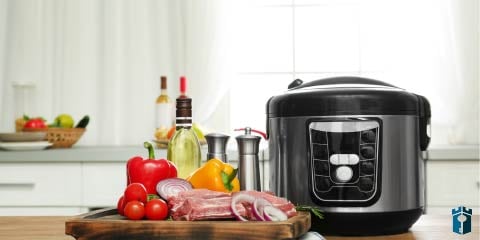 Winter weather is around the corner, and that means it's time for tasty meals set to a simmer. Break out your slow cooker or electric pressure cooker, and give these recipes a try!
Why use a slow cooker?
Cooking in a Crockpot or other slow cooker has three main benefits.
Flavor: Cooking slowly at low temps distributes flavors nicely in many recipes and can tenderize tough cuts of meat.
Convenience: You often need just one pan per recipe, and you can set it and forget it all day. Talk about easy!
Sustainability: Slow cookers use less electricity than an oven, won't heat up your whole kitchen, and don't give off dangerous fumes.
Benefits of an electric pressure cooker
Instant Pots and other electric pressure cookers have skyrocketed in popularity in recent years, and it makes sense! Here are a few reasons to give the trend a try:
Adaptability: Electric Pressure Cookers can be used as slow cookers, but that's not all! They can also sauté, boil eggs, make yogurt, cook rice, and keep foods warm for hours.
Delayed cook times: Countertop pressure cookers are a lot faster than slow cookers, but you can delay start times so your flavor-infused food will be piping hot right when you want it.
Speed: Whatever you're cooking, your pressure cooker will speed up the process dramatically. According to some estimates, these meals will be ready six times faster than if you were using a stovetop.
Tasty Recipes to Try
Save time each morning and start the day off right with overnight oats in the crock pot. With chocolate, caramel and coconut, this amazing recipe tastes just like those famous Girl Scout cookies.
This one-pot recipe for enchiladas is as easy as they come. Piled high with cheese and tender chicken, it will have your family begging for more! It's also great for leftovers or weekday meal planning.
If colder temps have you dreaming of warmer climates, you're not alone! Get a taste of Thailand at home with this savory chicken curry recipe. If you don't want authentic-level spiciness, simply adjust how much curry paste you use.
If you haven't tried gnocchi (pronounced nyo-kee), you're in for a treat! You can use either a slow cooker or an electric pressure cooker to achieve potato dumpling perfection, and the results will have your family singing your praises for days.
Slow cookers aren't just for savory dishes! This quick and easy fruit compote recipe takes less than two hours start to finish, and it's great on its own or served over French vanilla ice cream.
Ready for a kitchen upgrade?
Slow cookers and electric pressure cookers make for a great mini-upgrade for your kitchen, but today's low rates and high home values mean you may finally have the equity you need to take on a bigger remodeling project.
Whether you're interested in your first home, your next home, or a refinance to get cash out for that big upgrade, your friendly Castle & Cooke Mortgage loan officer can help. Call now to get started!