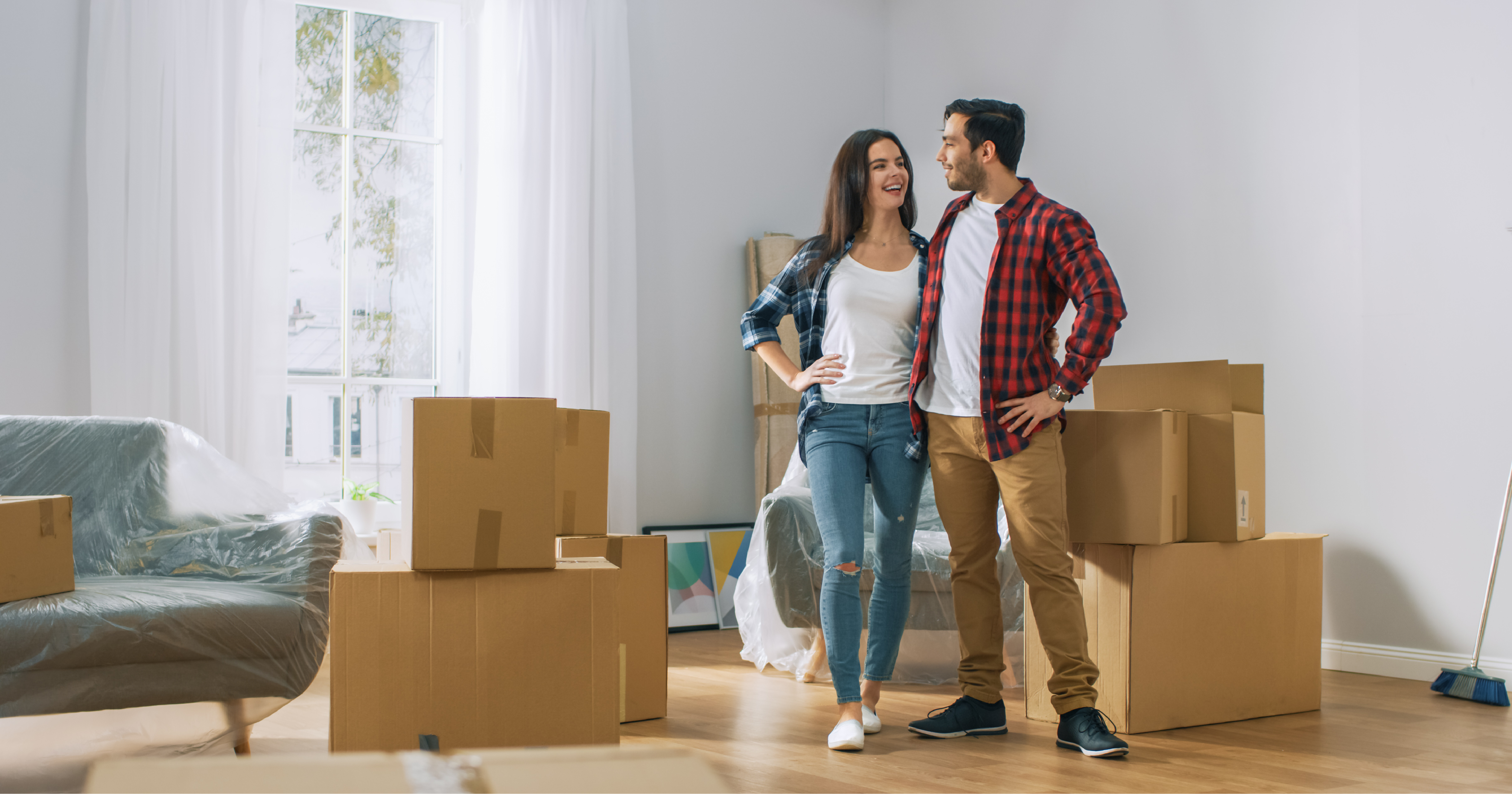 Closing on a new home can feel like the end of a marathon. You chose a lender, negotiated with the seller, sent in all your documents, and signed your John Hancock in about a million places.
Now that the paperwork is in the past and you're ready to cross the threshold into your own home, we recommend: a happy dance, an intense game of hide and seek, and perhaps a bottle of bubbly with your first meal. And don't forget to video call your relatives for that virtual tour!
After those initial celebrations are over, it's helpful to have a roadmap of the most essential tasks. We talked to a few of the homeownership experts we trust most and put together this handy week-by-week guide to get you through the first month and beyond.
Week 1
Set up sleep and kitchen areas: If you don't have nice places to sleep and eat, everything about moving will be much harder. Put food and rest areas high on your priority list to keep yourself running on all cylinders.
Prep pet space: If you're bringing a furry friend to your new home, make sure they have areas for eating, hygiene, and sleeping. If you have a dog, check fences and install a doggy door, if necessary.
Hook up utilities/internet: You'll need power and running water right away, and you may also need a secure internet connection in a hurry. Whether you do it in person, online, or over the phone, you'll need to get everything transferred to your name.
Clean ... everything: Your home might be previously loved, or could be brand new. Either way, it could probably be a little more hygienic. Take the time to clean inside and out, including kitchens (don't forget the refrigerator coils in the back), bathrooms, carpet, ceiling fans, and floors.
Change your locks: Even if you received a full set of masters from the previous owner, you never know what spare keys may be out there. Get a new set of locks installed at your earliest convenience.
Reset the garage security code: Each garage door is a little different, but the most common way to reset the code is to enter the previous owner's code and then press and hold the # button until the light blinks twice. Then, enter a new secret code and press enter. If you've done it correctly, the opener lights should blink once.
Forward your mail: You want to make sure you receive all your mail to stay up on bills and stay connected with all your personal and professional contacts. Visit a local post office in person or use easy online tools from the U.S. Postal Service to get the job done.
Explore the neighborhood: Part of the fun of a new house is learning all about your surroundings! Meet your closest neighbors right away—they'll be eager to share what they know—and start visiting all the parks, grocery stores, restaurants, and entertainment venues in the area.
Week 2
Start on repairs: Fix that squeaky handrail or leaky faucet, check for loose screws, and make sure you and your family can complete your daily activities safely and easily.
Locate safety essentials: Find the attic door, circuit breaker, and water and gas shutoff valves and make sure you know how to operate them in case of an emergency. This is also a good time to make sure you have a working fire extinguisher near every cooking appliance.
Check smoke and carbon monoxide detectors: If your smoke detectors weren't manufactured within the last 10 years, consider replacing them. If they are new and in working condition, replace the batteries.
Create a cleaning schedule: If you're a first time homeowner, you may need to build some new habits for tasks such as yard work, window cleaning, and other basics. Figure out how often each task needs to be done and lay out a calendar so it doesn't become overwhelming.
Review HOA/PUD guidelines: If your new home is part of a homeowner's association or planned unit development, make sure you know the rules. Breaking them—even if it's unintentional—can cost you big in fines. And if you build, paint, or plant something you weren't supposed to, there's a good chance you'll be forced to redo it at your own expense.
Scope out paint and décor: You've gotten to know the bones of the house. Now, start thinking about those finishing touches that will make it your own.
Week 3
Energy efficiency checkup: Utility bills are expensive enough without paying for wasted energy. Check your insulation, replace light bulbs with high-efficiency models, turn your water heater down to 120 degrees, and install a programmable thermostat. It's also a good idea to check air filters, fridge filters, HVAC vents, dryer vents, and the chimney for potential energy leaks.
Check drainage: If you haven't already, now is a good time to clear your gutters and make sure all your drainage is set up properly. A little prevention now could save you thousands later on.
Find contractors: The best time to find a plumber, HVAC technician, or carpenter/handyman isn't during the middle of the night in an emergency. The best time is now. Do your research, make a list, and store it in an easy-to-find spot.
Create an emergency kit: You never know when a flood, power outage, earthquake, mandatory quarantine, or other disaster may come your way. Get your household ready with plenty of flashlights, clean water, and food to last at least 72 hours. And don't forget the toilet paper!
Buy a document safe: Week three is about when you can expect a huge packet of documents from your mortgage lender. Consider keeping these papers and any other documents, including passports, appliance manuals, and automobile titles, in a fireproof safe or locked file cabinet.
Week 4 and beyond
Create a new budget: You'll need time to adjust to the expenses of homeownership, but you'll have a good idea of what to expect by the end of the first month. Take the time to create a new budget, and don't forget to save about 1% of your home's total value for repairs every year.
Create a to-do list: That inspection report you paid for can be useful even after you close on your loan! As you get settled in your new place, you can use yours to create a list of any work that still needs to be done.
Create a seasonal maintenance schedule: Even if your area doesn't have four distinct seasons, it's a good idea to make a list of the tasks that will need to be done every three months or so. Learn how to winterize your home and what the other seasons require, and add these chores to the cleaning calendar you created a few weeks ago.
Update your accounts: When you changed you address with USPS, you may have noticed that the mail forwarding lasts only 12 months. You will need to update your address in all your important accounts before the forwarding expires. Make a list of accounts and tackle a few each day until everything is current.
Owning a new home is a wonderful experience, and it comes will all kinds of benefits. It also comes with a little hard work, but it's nothing you can't handle!
If you're still shopping for a home loan or have questions about a future move, reach out to your Castle & Cooke Mortgage loan officer today.