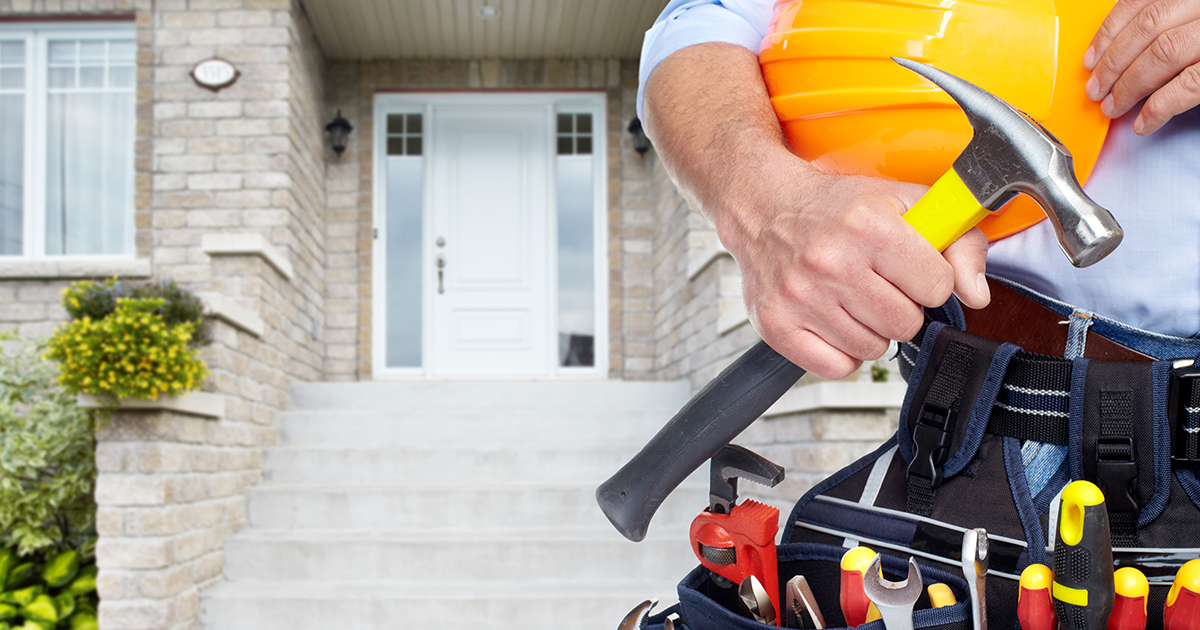 Buying a fixer-upper can be a dream come true, You get the bones of a great place, and you can be 100% confident that it's in a great location. You can have the repairs done to your exact specifications, and your home could be worth a lot more once repairs are complete.
For other owners, owning a property that needs serious repairs is a nightmare. Home repairs can suck up all your free time, and it can be tricky to estimate costs and find good contractors. Most importantly, you'll also need to figure out how to pay for everything.
In a hot real estate market, it's possible that some buyers can only find fixer-uppers in their price range.
One answer could be a home renovation mortgage, meaning a home loan that covers both the purchase price of the home and the cost of renovations. This type of loan is based on post-renovation or "as-completed" value, meaning the appraisal will reflect the future value of the home rather than its current value.
Most qualified lenders offer two main types of home renovation mortgages. Each has specific requirements for both homeowners and properties, and each comes with major benefits.
FHA 203(k) Renovation loans
Renovation loans backed by Federal Housing Administration (FHA) are known as FHA 203(k) loans, and they are available for both purchase and refinance.
Two types are available. The streamlined version is for homes that need non-structural repairs of between $5,000 and $35,000. Projects such as adding flooring, updating kitchens and bathrooms, weatherization, plumbing, and wall treatments are allowed.
The full version, also known as a Standard 203(k) home loan, is for homes that need more than $35,000 in repairs (including structural repairs).
Pros of an FHA 203(k) loan
One monthly payment for combined mortgage and renovation costs
Loan amount based on "as-completed" value
Relaxed credit score requirements (as low as 600)
Available for projects worth at least $5,000
Down payment of only 3.5%
Cons of an FHA 203(k) loan
Can only be used to purchase or refinance a primary residence
Mortgage insurance required
Repairs must be completed within six months
Can't be used for co-ops or condos
Can't be used for luxury items not affixed to the home (swimming pools, patios, outdoor fireplaces, etc.)
Usually requires a licensed contractor (unless there's approval from your lender to DIY)
Total loan amount must be within FHA loan limits
Hot tip:
If you're considering an FHA 203(k) loan, it's important to work with a contractor you can trust. It's a good idea to find a general contractor who can write a single bid for all the work, because paperwork on the contractor's side can get pretty tricky. It's also pretty smart to ask about past experience with FHA 203(k) loans, because extra requirements about building codes and safety issues may apply.
Fannie Mae HomeStyle® Loans
Another option for homeowners with fixer-uppers is the HomeStyle loan. It can be used for either purchase or refinance, and 15- or 30-year terms are allowed.
This loan is not backed by a government agency such as the FHA, but it has some distinct advantages.
Pros of a HomeStyle Renovation Loan
One monthly payment for combined mortgage and renovation costs
Loan amount based on post-renovation value
Can be used for condos
Can be used on brand new homes (as long as they're 90% complete)
Can be used for any repairs that are permanently affixed AND add value (even swimming pools!)
Renovations costs may total up to 75% of the "as-completed" value
No dollar amount minimum
Seller concessions are allowed
No first time homeowner requirement
Repairs can continue for up to 12 months
There's a possibility to finance up to six months of mortgage payments (in case the home isn't livable during renovations)
Cons of HomeStyle Renovation Loan
Standard FICO score requirements apply
Only owner-occupied homes are eligible
Minimum 5% down payment (or equity) required
Licensed contractors required
Mortgage insurance may be required
Energy efficiency renovations
Renovations related to energy and water efficiency may be allowed with either an FHA 203(k) energy efficiency renovation loan or a HomeStyle Energy loan. To qualify for special benefits through these programs, you may need a licensed Energy Rater to make a report about how efficient your home currently is and how much more efficient it could be after renovations. Your Loan Officer will be able to give you the details.
The renovation loan mortgage process
If you're buying a fixer-upper (or already live in one), it can be helpful to know what to expect from the home financing process. Things can vary based on a bunch of factors, but here are the basic steps:
You get pre-qualified for a 203(k) or HomeStyle mortgage.
If you're buying, you sign a real estate purchase contract (REPC).
You get at least one bid from a licensed contractor.
Your lender orders an appraisal based on "as-completed" value.
Your Loan Officer submits the loan and all required paperwork to Underwriting.
Your lender approves the loan (possibly with conditions).
You sign the final paperwork.
Your lender funds the loan, placing the repair portion of the funds into an escrow account.
Your contractor is paid for 50% of the work upfront (out of the escrow account).
Your contractor finishes the work (within 6 or 12 months, depending on the loan) and completes additional inspections and paperwork.
A second appraisal is ordered to confirm that the work is complete.
Your contractor is paid the remaining 50% and the escrow account is closed.
You make one monthly payment and enjoy the benefits of a renovated home.
Alternatives to home renovation loans
If you have a fixer-upper on your hands but aren't interested in a home renovation loan (or don't qualify for one), you may have some other options. They include:
Living in the home and saving up for repairs
Using proceeds from a cash out refinance to pay for upgrades
Using an unsecured personal loan or credit card
Taking out a home equity loan or line of credit with a local bank or credit union
Using contractor financing
Each of these methods to pay for a renovation has benefits and drawbacks (and many can be a lot more expensive in terms of fees and interest rates).
If you're ready to compare your options and see if a home renovation loan is right for you, our friendly Loan Officers would love to chat. You deserve the best possible home financing experience (fixer-upper or otherwise), and we're here with you every step of the way.