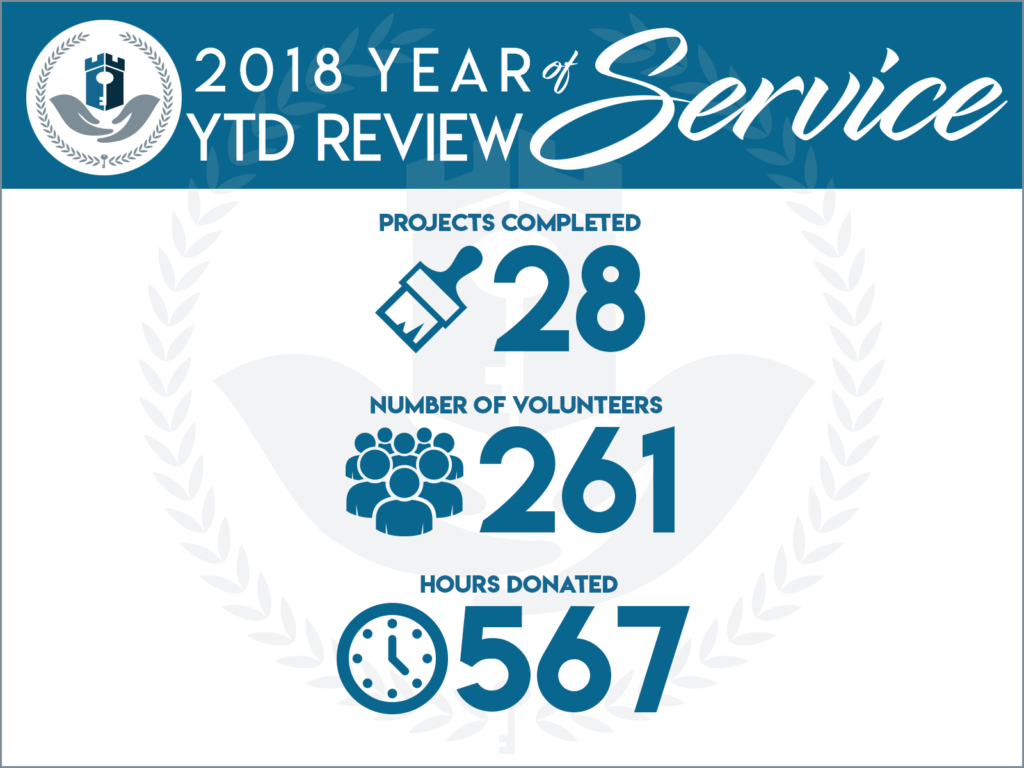 Mortgage lenders thrive when their communities thrive, and Castle & Cooke Mortgage is committed to supporting the communities we call home.
In 2018, our national leadership instituted the 2018 Year of Service to make our commitment official. Each branch picked a cause close to home and volunteered their time. As we hit the midway mark, we celebrate our team's dedication and the acts of service that strengthen the places we call home.
According to the U.S. Department of Agriculture, one in eight Americans was food insecure in 2016. Several Castle & Cooke Mortgage branches were alarmed by this and donated their time and goods to help address hunger issues.
In Utah, the corporate office worked with the Utah Food Bank, and the North Salt Lake Branch gave to the Bountiful Food Pantry. In Arizona, both the Scottsdale and the Gilbert branches spent time packing food and vitamins to be sent to El Salvador through the Feed My Starving Children organization. And in Hawaii, the Mililani branch volunteered with the Hawaii Food Bank.
To help spread a warm, fuzzy feeling, employees from several other branches chose organizations that work with animals. The Peoria, Ariz., branch volunteered with Soldier's Best Friend. This organization does double duty by pairing U.S. veterans living with PTSD (post traumatic stress disorder or TBI (traumatic brain injury) with service dogs, most of which are rescues. In Utah, the finance team at corporate collected donations for Best Friends Animal Society, a no-kill pet adoption shelter.
Many branches also got outdoors: the team in Meridian, Idaho, prepped the ground for a new memorial garden; the Memphis branch raised funds in the National Kidney Walk; the Oxford and Southaven branches in Mississippi volunteered at the annual LawFit Challenge; and the Kauai branch collected donations for a beach community hit by extreme flooding.
Finally, for children in the Nebraska foster care system, the Scottsbluff branch volunteered at the Finders Keepers Children's Outreach, an organization that provides basics such as bedding, clothing, and school supplies.
Year-to-date tallies to celebrate
By the end of June, Castle & Cooke Mortgage employees had rallied 261 volunteers to complete 28 service projects. The resulting number of hours donated to strengthening our communities comes in at a whopping 567!
Unexpectedly, Castle & Cooke Mortgage employees seemed to receive as much as they gave.
"Volunteering my time reminded me to slow down in life and enjoy some of the simpler things," said Mindy Neisender.
Kathy Provost said, "It felt great to get involved and support our neighbors. I'm proud of (the Castle & Cooke Mortgage) dedication to making our community a better place and for supporting us in this."
If you are ready to join a team that cares, visit our Careers page.